Titanium Backup Pro key V8.1.0 | Best Root Tools Recommended by KingoRoot
---
Your PRO Key for Titanium Backup!
Voted #1 TOP APP FOR ROOT USERS on Twitter.
New DEMO VIDEO: http://youtube.com/watch?v=YU33zabluSY&hd=1
No icon! Requires the Titanium Backup (free) app (see "More" section below). This key will turn it into PRO.
The same key can be used on several devices!
For download issues & support: read below.
PRO Features Added:
Multiple backups per app
0-click batch restore
Backup/restore SMS,MMS,calls,bookmarks,Wi-Fi AP as XML
Multi-user support for some apps! (eg: games)
Batch verification
Backup apps without closing them!
Create your own update.zip containing apps+data!
Restore individual apps+data from non-root ADB backups!
Restore individual apps+data from CWM backups!
Restore individual apps+data from TWRP backups!
Hypershell speed
Migrate system data across different ROMs
Market Doctor (relink apps to Market)
"Destroy all Market links" feature
Apps freezer (incl. batch support)
Market "auto updating" manager
Convert user apps <=> system apps
Encryption
Unlimited schedules
Sync to/from Dropbox (manual/scheduled)
Sync to/from Box (manual/scheduled)
Sync to/from Google Drive (manual/scheduled)
TB Web Server: download/upload your backups as a single ZIP on your computer
Load/Save a Filter and use it in Widgets/Schedules
Change the device's Android ID, restore it from a backup or after a factory reset
Protect backup against deletion
Send backup (to e-mail/cloud) and import it in 1 click
Backup→Verify→Un-install an app in one shot
Freeze/defrost/launch apps in a single click
CSV export any app DB (e-mail or Google Docs)
Brand the app with your name
Bloatware Melter (experimental)
Convert app data to/from faster WAL DB format
And more!
What the Press says:
The Most Essential App For Android" - Tech'n'Life
NONE can compare with this one" - Android Market Review
The Best Backup App for Android" - Lifehacker
The hands down best Backup on the market" - Absolutely Android
It is a must-have backup app" - Droid Ninja
Support & Upgrades:
All upgrades are FREE.
If Market won't download your PRO key: although credit card authorization *usually* occurs instantly, in rare cases it may need up to a few hours to complete. Try the Web version of Play Store. If problem persists, login at checkout.google.com to cancel your order & try again.
If your PRO key doesn't work (eg: installed before the purchase completed) please un-install it and then reinstall it from the Web version of Play Store.
We aren't responsible for any currency conversion fees charged by credit card issuers.
For support please see the Knowledge Base at http://titaniumtrack.com/kb and then e-mail us at the address below.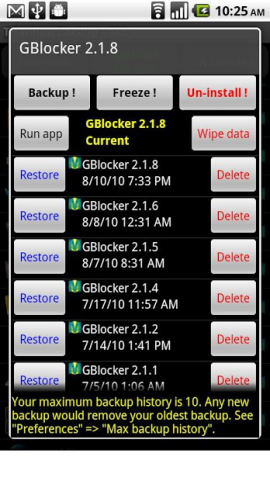 ---
KingoRoot on Windows
KingoRoot Android on Windows has the highest success rate. It supports almost any Android device and version.

KingoRoot for Android
KingoRoot for Android is the most convenient and powerful apk root tool. Root any Android device and version without connecting to PC.

Top Posts